A 45-minute service departing at various times from the François Sicard stop

Ride in a carriage through the tourist sites of Tours city centre. The carriage runs only during Christmas time and in the summer months.
The departure/arrival terminal is at the end of rue Bernard Palissy, at Place François Sicard.
The carriage does not run on Monday (capacity: 10 to 12 people maximum).
From may 3 to september 30, 2022 :
From Tuesday to Saturday: 10 am / 11 am / 3 pm/ 4 pm / 5 pm ;
Sunday and public holidays: 3 pm/4 pm / 5 pm.
Does not run :

Monday
July 26 : Garlic Fair
June (awaiting a date) : Gay Pride
From december 17 to january 2, 2023 :
From Monday to Saturday: 11 am / 3 pm/ 4 pm / 5 pm ;
Sunday : 3 pm / 4 pm / 5 pm
Does not run on public holidays
Prices
Valid monthly card holders can travel for free
You can also buy your "Calèche ticket" from the coach driver for €1.60 (Rate as of 01/08/2019)
To see the carriage's route, please click here!

Information at the Fil Bleu sales office: +33 2 47 66 70 70
Wearing a mask is compulsory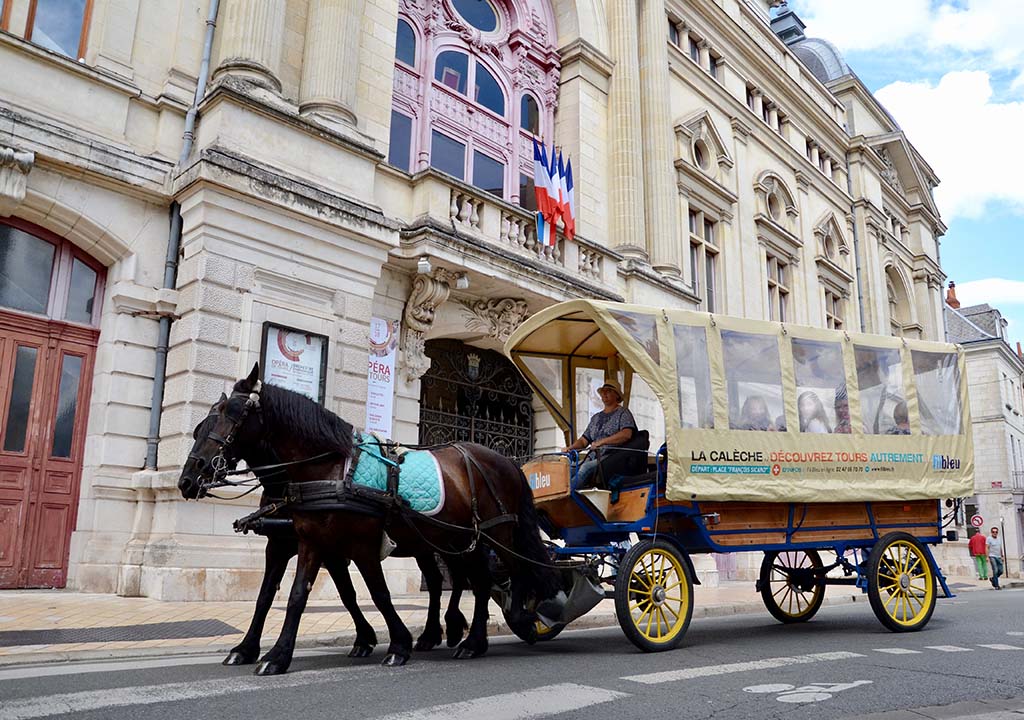 Schedules are subject to change due to weather conditions and the health situation.
Fil Bleu cares about animal welfare. When the weather is unfavourable for horses, the timtables may be modified or suspended.