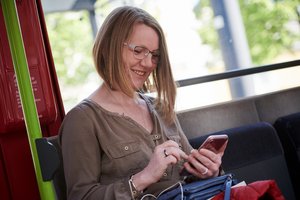 Liberté Pro is restricted to companies: non-binding, simpler and cheaper. This plan enables the employees of a company, administrative structure or association to travel without subscription or money.
The Libertés Pro cards are not with name and are restricted to companies. They carry the logo of the company;
Unlimited access to the entire bus + tram network for 1 hour including connections on each trip;
Validate your contactless card on each entry into a tram or bus in compliance with the rules;
The company pays only what the employees use against each invoice. No obligation to use;
Travel at a cheaper price: €1.40 instead of €1.60 and the first card is given free;
In case of loss or theft, the cards shall be blocked after receiving a request from the company. The new cards created will be billed.
How to purchase your Liberté Pro card ?
For more information, contact Mr. Nicolas Brault at +33 2 47 32 40 87 or by email: nicolas.brault(at)keolis.com.
The items to be provided :

Name and contact details (phone no., email, address) of the contact person for handing over the cards;
The number of cards required ;
A logo with good definition that will be printed on the cards ;
The name that will appear on the cards (2 lines). The second line will end with 1, 2, etc. ;
The exact name that will appear on the bill.
A recent KBIS extract (less than 3 months) ;
The company's SIRET number.
Learn more about professional services