Résabus is an on-demand transport service!
Travel by mini-bus (8 seats), taxi or bus. Timetables may be fixed or undetermined. Résabus stops are marked by a post or shelter providing all the necessary information.
Bookings can be made from 3 weeks to 30 minutes before departure:
Via the online booking platform by clicking here
By calling our customer service team on +33 (0)2 47 66 70 70 (weekdays: 6am - 8pm; and Saturdays: 10am - 8pm)
The "Résabus Fil Bleu" mobile app
The Résabus fare is identical to the standard Fil Bleu network fare and cards and tickets will need to be validated on board.
Find out how each Résabus service works by consulting the line concerned.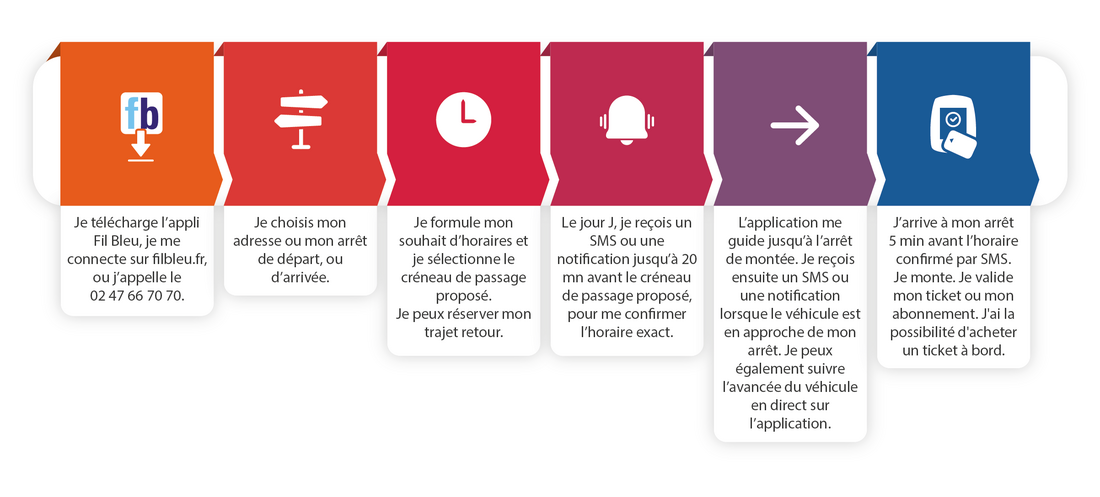 Fares are those of the Fil Bleu network, and validation takes place on board the vehicle.
Flexible: Choose your schedule and make bookings from 3 weeks to 30 minutes before departure
Affordable: You will pay the standard Fil Bleu fare
Simple: Manage your bookings and cancellations and track your vehicle in real time via the Fil Bleu app
Fast: The vehicle will take you directly to your destination, reducing your journey time depending on traffic
Close by: New stops are being created closer to people's homes. Find your stop easily with the Fil Bleu app
Eco-friendly: The central booking system allows several customers to be grouped together on the same journey
Transport On Demand Terms of Use