All our vehicules are fully accessible
The platforms of most tram stations (except: Tranchée, Mi-Côte and Place Choiseul*) are easily accessible for wheelchair users. The trams have a flat floor and are level with the platform. The tram's double doors allow easy access for wheelchair users.
Detectable warning surfaces have been specially designed for the visually impaired and installed on all platform edges. Visually impaired people can detect the inlaid studs on these surfaces with their feet or cane, warning them of the proximity of the tram track. This type of tactile surface can be found at pedestrian crossings, warning people of the danger ahead: the road to be crossed.
*These three tram stations do not comply with the accessibility law (the trench has a slope with a 7% gradient).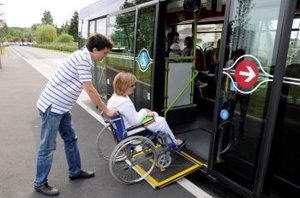 All Fil Bleu vehicles are accessible. 170 buses are equipped with an electric ramp and 24 buses have a manual ramp, which can be operated by able-bodied passengers in the vicinity. For safety reasons, the driver is not allowed to leave the driver's seat. Our entire bus fleet also offers dedicated spaces for wheelchair users: one or two spaces are available on each vehicle, depending on the model.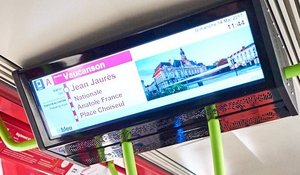 Audible announcements are made on each vehicle and the buses on the Tempo 2 line are equipped with TFT displays to improve the readability of real-time information.
Loudspeakers are also placed outside the tram, announcing both the line and direction of travel of the vehicle as it comes to a stop.
New, more accessible buses
To help protect the local environment, Tours Métropole Val de Loire, via Syndicat des Mobilités de Touraine, will soon have 45 buses in its fleet running on natural gas (NGV).
These buses will be gradually deployed throughout the Fil Bleu network and the first 15 will be available in the summer of 2022. Gas derived from renewable sources will account for 20% of the fuel used to power these eco-friendly buses from 2022, with this figure rising to 30% from 2025. Fully accessible to people with reduced mobility, particular attention has been paid to the layout of these vehicles:
Two places for wheelchair users
TFT screens to display real-time information
Wider aisles (for example: 900 mm at the front wheel arch)
A dual-mode wheelchair ramp (electric and manual) to ensure vehicle accessibility, even in the event of a power failure
More efficient indoor and outdoor sound systems
Syndicat des Mobilités de Touraine has invested €16 million.