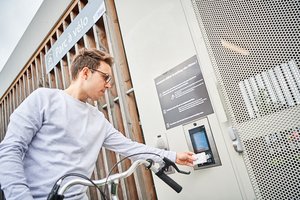 One year subscription allowing access to secure bike parks to park your bike easily.
Unlimited access to secure bike parks for 1 year;
Subscription can be loaded on a contactless card (€2 for creation);
This pass does not allow to travel on the bus + tram network.
Are you already paying a monthly bus + tram pass (excluding Liberté) ? Access to the bike parks is free !

At our Fil Bleu sales office (9 rue Michelet, 37000 Tours)
Fill out and print the completed card request form ;
Submit the following documents :

Your original ID ;
A passport photo (we can also take your photo with a webcam).
How to renew your subscription
After submission of supporting documents :

At our Fil Bleu sales office - 9 rue Michelet, Tours
At a supervised car parks