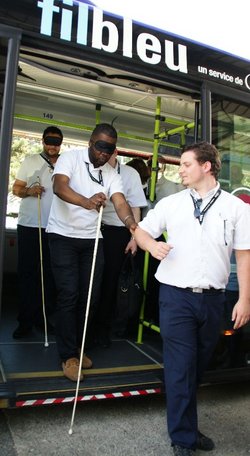 Keolis Tours Access, operator of the Fil Blanc service, and Keolis Tours, operator of the Fil Bleu service, provide ongoing training for their staff on disability-related matters.
Training is regularly provided on identifying disabilities and how to best adapt to users, as well as on actions, approaches and behaviour to adopt based on the specificities of the passenger. Our call centre staff, drivers and sales office staff, in particular, are therefore able to provide a tailored service to a customer based on their disability (physical, cognitive, sensory, etc.).
In parallel to these efforts, the Fil Bleu and Fil Blanc teams regularly simulate specific "Customer Experiences" to put themselves in the shoes of a disabled or vulnerable customer. Through these experiences, our staff temporarily feel the effects of a disability on a journey and reflect on solutions or actions to improve their service.
These experiments focus on five themes: physical disabilities (people with reduced mobility, the visually impaired and the hard of hearing), intellectual disabilities, vulnerable people (the elderly, illiterate people, injured people and pregnant women), occasional customers who are unfamiliar with the network and newcomers to the city (students and households moving in).
In collaboration with Association Valentin Haüy (AVH) and the French Association for People Living with Paralysis (APF), customer-oriented courses are also offered to staff, who are asked to simulate the effects of a disability: covering their eyes with patches or blindfolds, obstructing their ears and using wheelchairs. People who actually have disabilities also attend these sessions to share their thoughts.
Feedback is also regularly sought from other transport networks. Once a year, around thirty Keolis staff members from other French networks carry out typical customer journeys on the Fil Bleu network, enabling the Tours Métropole network to benefit from the shared experience of all the other Keolis networks in France.