The Fil Bleu sales office has been awarded the ACCEV certification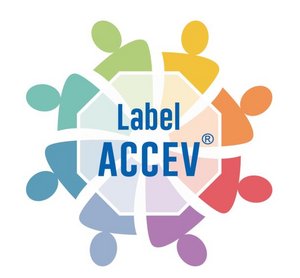 The ACCEV® (Accessibility and Suitability of Everyday Spaces) certification recognises the "true value of access for all." Developed by CRIDEV (The Centre for Research for the Inclusiveness of Differences in Everyday Spaces) and APF (The French Association for People Living with Paralysis), this certification aims to enhance and promote the well-being, comfort and safety of all.
It recognises the continuous improvement approach adopted by the sales office and the adaptations made for many physical, cognitive and psychological disabilities to ensure optimal accessibility and a more inclusive service.
The design and layout of the Fil Bleu office have also been modified to facilitate access to its various services, from the reception desk to the exit.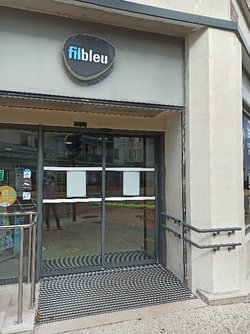 At the entrance, a sign compliant with the FALC ("Easy to read and understand") standard indicates the access and exit conditions at the establishment. A double handrail has also been installed. Featuring two levels and two different diameters, this rail can help people with reduced mobility, as well as young children. For practical reasons, these bars are covered with an anti-glare coating which does not heat up in the sun. This makes it easier for people to find the automatic double entry doors.
The approach towards welcoming users from the initial moment of contact has been completely reconsidered and is based on a study carried out in partnership with the residents of Foyer Michèle Beuzelin in Saint-Cyr-sur-Loire. Affected by various cognitive disabilities (Down's syndrome and autistic disorders), these residents shared their experience and perception of information to help create the reception area. As the head of the sales office explains, "The approach is different. Upon entry, the reception desk identifies the person's profile before determining the reason for their visit. This means that priorities can be managed. Therefore, whether a customer is in a wheelchair, has a hearing or cognitive disability, is pregnant, or has children in pushchairs or toddlers, they are guaranteed a waiting time adapted to their needs. For visually impaired or blind people, the instructions are provided in Braille, then vocalised."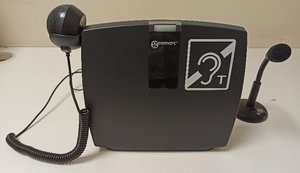 Hearing loops are available from the ticket office for the hard of hearing. Hearing loops allow hard of hearing customers to amplify the sound of the speaker's voice. It is also possible to connect a loop directly to a hearing aid. This facilitates the discussion by isolating the speaker's voice from unwanted background noises.
For deaf signers, the agency also offers an interpreter service via the Elioz platform. Offered through a tablet, this service allows a French sign language (LSF) interpreter to intervene directly in proceedings via a video call, or by providing real-time speech transcription (RTST) or (CST) cued speech transliteration. This service is also available at the Fil Bleu call centre
Passenger information area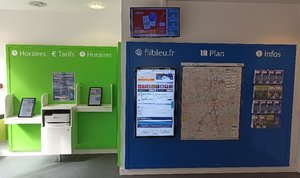 The passenger information area has been completely redesigned. Customer documents are accessible at different heights, a giant touch screen provides access to the filbleu.fr website and two tablets (at two different heights) allow timetables to be printed on a self-service printer.
Layout and signage of the office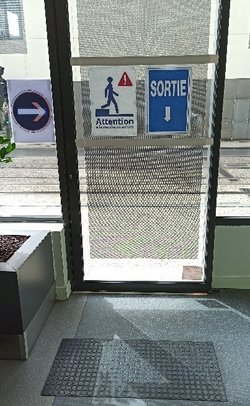 Spaces are bright, clear, clean, unobstructed and decoration-free (lamps, plants, etc.), making it easier to see and move around the office, as well as to access seating areas.
Due to the pandemic, a one-way traffic system is currently in place. All users must enter the office via the entrance ramp on Rue Michelet and exit onto Rue Charles Gille. There is step next to the exit door leading onto Rue Charles Gille. The change in level is indicated by a pictogram and a detectable warning surface to warn of the danger.
Due to the position of the pavement and tram tracks, it is technically impossible to install a ramp. Wheelchair uses must exit the office via the ramped entrance door.
Comprehensive training on how to welcome all customers
Ensuring high-quality service for all means doing more than simply complying with accessibility standards. Multiple factors must be taken into account and specific actions must be taken. The sales office therefore provides a welcoming environment from the outset: a calm space without music, adjusted lighting and a peaceful atmosphere. Our staff are trained to take a caring approach towards all customers, adapting to their individual needs to provide the best possible service. Our staff regularly attend training courses on this particular subject to make sure they can adapt their approach accordingly. How to recognise a disability How to adapt your posture, gestures and voice How to identify a potentially complex situation All these professional training courses are provided by accredited organisations.