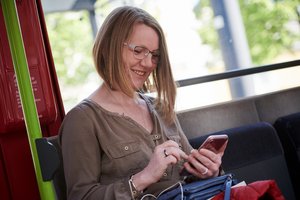 Travel without subscription or money: non-binding, simpler and cheaper.
Unlimited access to the entire bus + tram network for 1 hour including connections on each trip;
Validate your contactless card on each entry into a tram or bus in compliance with the rules.
Pay only for what you use by direct debit on 15th of each month. No obligation to use and travel as much as you desire;
No more reloading your transport card, your card is valid at all times;
Travel at a cheaper price: €1.40 instead of €1.60 and the personalised card is free;
For subscribers, Liberté can be loaded on your card without any fees, therefore you can switch from your subscription to Liberté at your convenience. If your subscription is not loaded, Liberté would come into effect.
How to purchase your journey ?
Online when creating your card
By post
At our Fil Bleu sales office - 9 rue Michelet, Tours
At a Fil Bleu kiosk